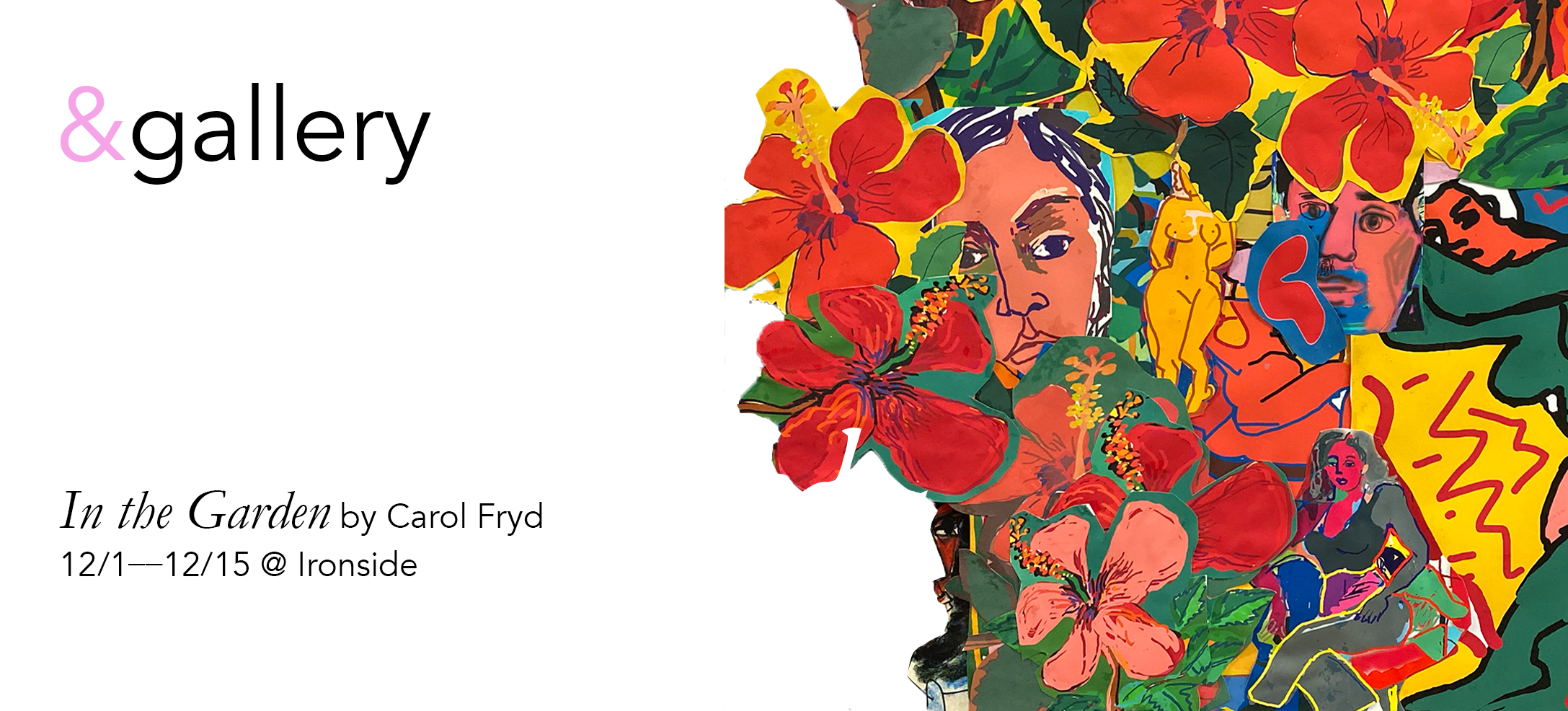 Join &gallery at Miami Ironside for the opening of a special exhibition featuring mixed media works of Miami artist Carol Fryd. Overlapping techniques of collage and digital art, the artists' subjects are often centered around Miami's intersecting cultures, colors and unique flora. In the Gardenis informed by the colorful palette of South Florida and the fertile imagination of the artist who has spent a lifetime embracing her Miami roots. 
Programming + Hours
Sunday, 12/1, 3-6pm: Opening Reception
refreshments will be served

Monday, 12/2, 8:30-10pm: Ballad of Miami
a musical journey and art performance by Darren Hoffman
Tuesday, 12/10, 6:30-8pm : Artist Talk 
a look at the life and work of Carol Fryd
Saturday, 12/14, 4-7pm: Open House, Last Look
Last chance to see the exhibition
Facebook event: https://www.facebook.com/events/454845268498082/
All other times by appointment info@andgallery.net
Location:
&gallery at Ironside
7580 NE 4th Court, #105 Miami, FL 33138
Located in the courtyard by the restaurant and bakery. Parking is available on street and in the parking lot on the North side of the Ironside Complex
---
Carol Fryd hails from the Hans Hofmann tradition, having studied extensively with his New York School star pupils Jame Billmyer and Nieves M. Billmyer. A native Floridian, the vivid hues of the Miami sun inform her palette. Twentieth Century artistic influences include Stuart Davis, Picasso and Matisse, but her voice is distinctly her own. Hugely prolific, her current style shift is from geometric abstractions to the figurative imagery of her own personal feminine mythology.
A pioneer in the Miami Beach art scene, Fryd was one of the founders of the first women's co-op art center in Miami Beach in the mid sixties, the Continuum Gallery. Created to foster an intellectual and artistic dialogue between like-minded women artists, it brought such New York luminaries as sculptor John Chamberlain, art dealer Betty Parsons, Matisse scholar Jack Flam and Holocaust photographer Roman Vishniac to lecture and chair shows.
Today, Fryd works extensively with collage on canvas, watercolors, and mixed media on paper. She continues to push the envelope by exploring the use of digitally realized art via her computer-generated drawings, that lately find their way into her large works on canvas.
Fryd's work is represented in the permanent collections of the Bass Museum of Miami Beach, Museo de la Galeria de las Casas Reales of Santo Domingo, Museo de Arte Moderno of Santo Domingo, Museo De Las Hermanas Mirabal of Salcedo, Centro Cultural Mirador of Santo Domingo and private collections in Florida, New York, California, Michigan, Massachusetts and Peru. One person shows include the Bernard Biderman and Worth Gallery (72 and Madison), in New York City; and in Miami, The Carefully Chosen Gallery on Lincoln Rd and The Edge Gallery in the Design District.
---
In Miami, Carol Fryd is represented by &Gallery, info@andgallery.net