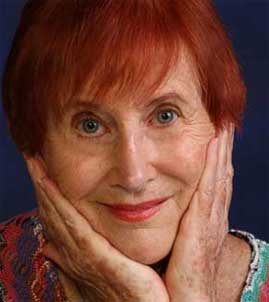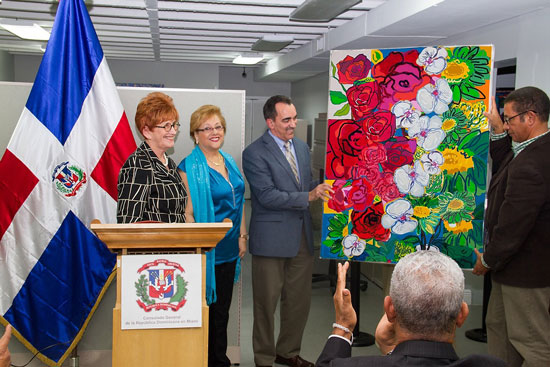 On November 22, the Dominican Consul of Miami honored Carol Fryd and added one of her collages to their permanent collection.


---
Carol Fryd hails from the Hans Hofmann tradition, having studied extensively with his New York School star pupils Jame Billmyer and Nieves M. Billmyer. A native Floridian, the vivid hues of the Miami sun inform her palette. Twentieth Century artistic influences include Stuart Davis, Picasso and Matisse, but her voice is distinctly her own. Hugely prolific, her current style shift is from geometric abstractions to the figurative imagery of her own personal feminine mythology.
A pioneer in the Miami Beach art scene, Fryd was one of the founders of the first women's co-op art center in Miami Beach in the mid sixties, the Continuum Gallery. Created to foster an intellectual and artistic dialogue between like-minded women artists, it brought such New York luminaries as sculptor John Chamberlain, art dealer Betty Parsons, Matisse scholar Jack Flam and Holocaust photographer Roman Vishniac to lecture and chair shows.
Today, Fryd works extensively with collage on canvas, watercolors, and mixed media on paper. She continues to push the envelope by exploring the use of digitally realized art via her computer-generated drawings, that lately find their way into her large works on canvas.
Fryd's work is represented in the permanent collections of the Bass Museum of Miami Beach, Museo de la Galeria de las Casas Reales of Santo Domingo, Museo de Arte Moderno of Santo Domingo, Museo De Las Hermanas Mirabal of Salcedo, Centro Cultural Mirador of Santo Domingo and private collections in Florida, New York, California, Michigan, Massachusetts and Peru. One person shows include the Bernard Biderman and Worth Gallery (72 and Madison), in New York City; and in Miami, The Carefully Chosen Gallery on Lincoln Rd and The Edge Gallery in the Design District.
---
In Miami, Carol Fryd is represented by The Art Place Wynwood, 2722 NW 2nd Avenue, Miami, FL 33127, +1 786.709.1842